Today is my last day in Paris. How grateful I am to have had this experience! I'll be back, so no regrets for not having seen everything! I saw what I set out to see, did what I set out to do, and saved this last day to gather my thoughts and my things, and prepare for home.
I stopped by a little gallery near my apartment to say goodbye to the delightful owner, Nicole, who has owned the gallery for 45 years. She and I spent almost 2 hours together several days ago, when I bought a few pieces from her. A word of advice: if you make a purchase, especially in a private little gallery, be prepared for a visit, not the quick transaction we Americans are used to. Take a seat and expect to spend time talking about art, artists, and the vicissitudes of life—especially if you can manage a little French—while your purchases are carefully, lovingly, slowly wrapped.
Nearby the gallery I passed by the famous Ecole des Beaux-Arts. A group of art students were mingling outside. Farther up the street I was surprised to see a plaque above a doorway, marking the former residence of the novelist George Sand. I thought about the Unicorns again, because she was also enchanted by them and helped bring them to public attention.
I had one more day left on my museum pass, so I walked back over to the Louvre for a few hours. I wanted to see the 18th and 19th century French paintings. It was raining and the pigeons were swimming in the courtyard.
Below are some of the pieces that attracted me today. I saw some lovely pieces by Ingres, the neo-classical French painter, known for his very smooth, almost non-existent brush strokes, as you can see in The Valpinçon Bather, painted in the very early (1802), 19th century. Ingres was a student of Jacques-Louis David who painted this interesting Portrait de Madame Marie-Louise Trudaine in the late 18th century. This piece has more of a modern look to it than some of his other works.
Below is a particularly luminous portrait by 18th century painter Baron François Gerard. As we move toward the turn of the century, I notice hints of light and color here and there, changes beginning to emerge from the tonality typical of this era. It's exciting to witness the evolution of painting. It's important for any artist, writer or musician to know and become familiar with what has gone before.
This unusual piece is by an artist I had never heard of: Anne Vallayer-Coster. Panaches de mer, lithophytes et coquilles, 1769. It stopped me in my tracks, because it is so unusual to see this kind of still life from an 18th century painter. And a woman, no less, in this very much a man's world!
One 18th century painter that I especially admire is Jean-Honoré Fragonard. I enjoy his loose vigorous brush strokes; they are a forecast of the Impressionists to come. Here are a few pieces I enjoyed today. [There is also a Fragonard in the National Gallery in Washington D.C. that I love: A Young Girl Reading. She is wearing the brightest most luminous yellow dress.] Notice the vitality of the brush strokes in these portraits below, very exciting for a late 18th century painting. Unfortunately, most of Fragonard's private patrons were either guillotined or exiled during the Revolution, and this magnificent painter died virtually unknown. For half a century or more he was completely ignored, but subsequent reevaluation has confirmed his position among the all-time masters of French painting. The influence of Fragonard's handling of local color and expressive, confident brushstrokes was not lost on the Impressionists, particularly his grand niece, Berthe Morisot (my very favorite) and Renoir.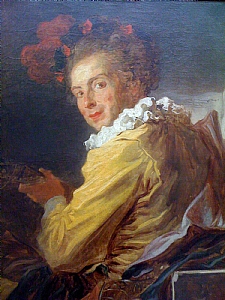 I was surprised to see a small room with some late 19th century Impressionists: Sisley, Pisarro, Renoir among others. Usually the extent of the Louvre's exhibits ends around 1848. The d'Orsay takes it from there. There were even a few pieces by Pierre Bonnard, part of the Nabis, an early 20th century movement. Below is one of many pieces for which he used his wife Marthe as a model.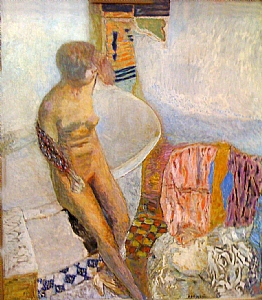 Well, as you can imagine, I had to tear myself away. As I was leaving I came upon some school children listening to an art lesson. It was a gift to be in the presence of the handing down—and the wide eyes looking up—of the magnificent history of art.
Au revoir for now.